Introduction
England's historic victory against Germany at the 2022 Women's Euros final has inspired a nation. But the road to mainstream recognition has been far from easy.
Despite being banned by the FA until 1972 and undergoing persistent inequality with regards funding and media coverage, women's football has since managed to tackle these hurdles and rebuild their presence on the international sporting stage. 
The BBC's landmark decision to run 24/7 coverage of this year's Women's Euros provided a long-awaited opportunity to be seen by mainstream audiences tuning in across the globe.
As the Lionesses' roared through the tournament, support for the team has grown exponentially. Could this mark a pivotal moment in women's football and women's sport?
Methodology
Fifty's insights team segmented the online audience talking about the 'Lionesses' throughout the Euros. We then overlaid these breakdowns to understand how the audience evolved throughout each stage.
Competition Insights
This year marked both the highest attendance and most watched Women's Euro final in history. 87,192 spectators gathered at Wembley stadium to watch England defeat Germany, a higher turnout than any other women's or men's European final. On top of this, another 17.4 million people tuned in at home, making it the BBC's most-watched programme of 2022 so far. These record-breaking viewership numbers are also reflected in our study, which showed a 7,390% increase in online engagement between the friendlies and the final.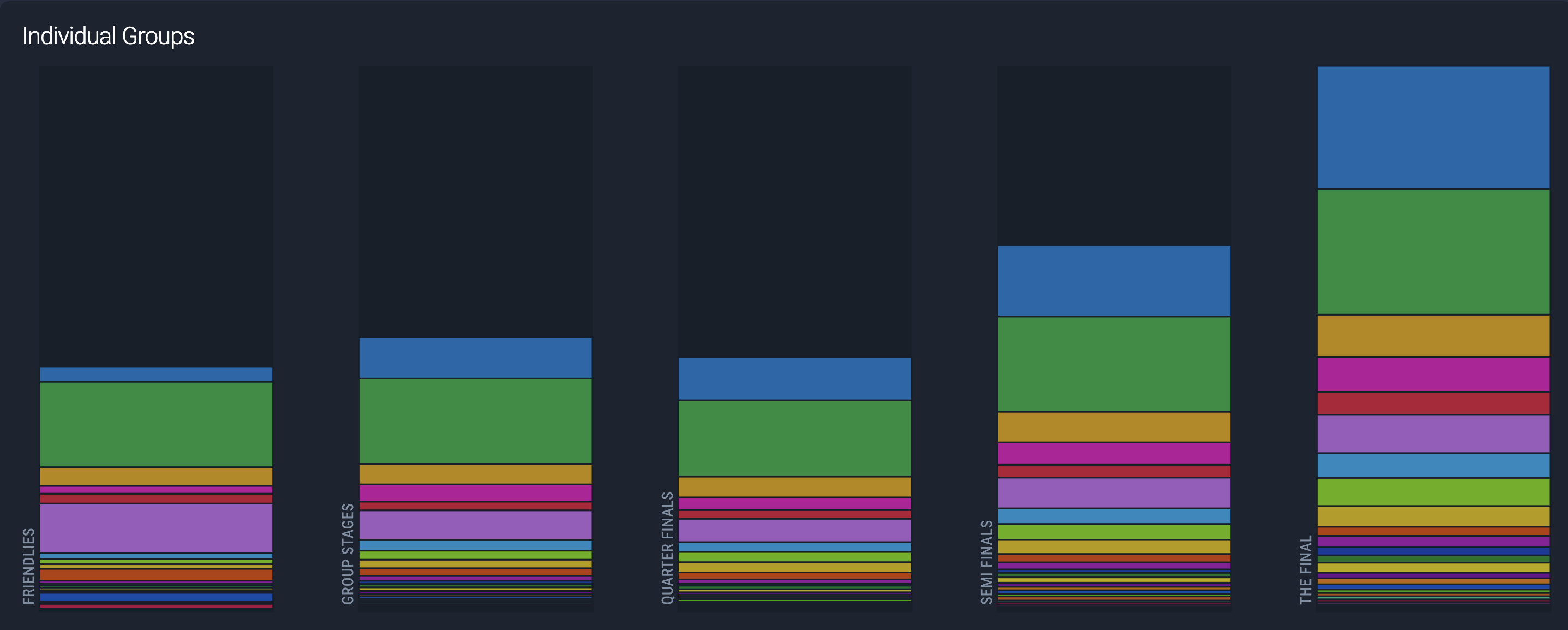 Key engaged tribes include the women's Sports Community, Core Football Fans, Patriots, Gen Z, Middle Class Mums, Creative Professionals and Young Party People. Across these different tribes, key interests range from law and government, books and literature, food and drink and music. The diversity and variety of those talking about the Lionesses illustrates how they captured the attention of the entire nation, with their influence stretching far beyond football and women's sports communities.
The above chart illustrates how the percentage share of the total audience for the four largest tribes changed as the tournament progressed. In essence, it depicts how vocal the tribe was in total conversation surrounding a game.

Figure 2 shows the percentage audience share of women's Sport & Core Football Fans decreased since the opening matches. Despite increasing in volume, their relative share of the conversation fell from 55.1% during the friendlies to 30% for the final. This decline does not signify a drop in engagement amongst these audiences, but rather that there was increasing engagement from the wider online community.
The accelerated growth in engagement from Patriot and Gen Z tribes increased their percentage audience share as the Euros progressed, illustrating how the Lionesses have engaged new audiences at a truly exponential rate.
Figure 3 demonstrates how the percentage share of a number of smaller tribes also changed over time. All of the tribes followed the same trajectory - each saw a significant growth in audience size, engagement and overall share of the conversation. The divergence in interests of those engaging with the Lionesses throughout the tournament further illustrates how their historic success has brought women's football firmly into the spotlight and mainstream conversation. Top influencers among these different tribes span the entire online community. From pop culture celebrities like Cara Delevigne to political icons like Michelle Obama, all the way through to cultural institutions such as the National Theatre and major corporations like Playstation and Aldi.

Conclusion
After a century-long battle for equal footing, women's football has finally entered into a new era, one marked by unilateral media coverage, record-breaking attendance and national pride.
The results of our study reinforce that, when given an equal platform, women's football can captivate individuals from every corner of British society. Despite the ongoing bias and inequality that persists within sports culture, the meteoric rise in online conversation surrounding the women's Euros signals that women's football can no longer be sidelined. The long-awaited move towards equal coverage of women's sport also presents an important opportunity for brands looking to keep pace with this shift by adopting a broader message of inclusion that resonates with a wider sporting audience.

Want to learn more about how Fifty can help you reach your changing audience? Get in touch with our sales team at [email protected] or book a demo directly with our team.