Since Netflix UK launched in 2012, the streaming-video-on-demand (SVOD) industry has boomed - with Netflix raking in an estimated 14.9 million UK subscribers and the average British household using 2.4 different platforms. As more media producers choose to pivot towards building streaming platforms, rather than selling their media into existing ones, the battle for hit content has begun.
SVODs are pouring billions into the content arms race, all in the hope of securing big hits to draw in, and hold onto subscribers, with content spending predicted to hit $230bn in 2022, up $10bn from 2021.
Methodology
Our Insights team ran a competitor landscape study to gain a better understanding of the streaming services market in the UK. Fifty compared the audiences of Sky, Netflix, Prime Video, Disney Plus, Paramount Plus, Now TV, Apple TV, Discovery Plus, Britbox and DAZN.
How can a deeper understanding of the SVOD audiences allow streaming services to grow and retain their subscriber base?
Market Insights
Fifty's thematic analysis revealed a broad spectrum of engaged communities, including Entertainment Enthusiasts, Sophisticates and Engaged Youth.
The Entertainment Enthusiast community included tribes of Sports Fans, Film Buffs and Gamers. Tribes of Professionals, Household Decision-Makers and Literature Lovers form the Sophisticates. The final theme, Engaged Youth, is an aggregate of Pop-Culture Fans, Party People, Digital Professionals and Students.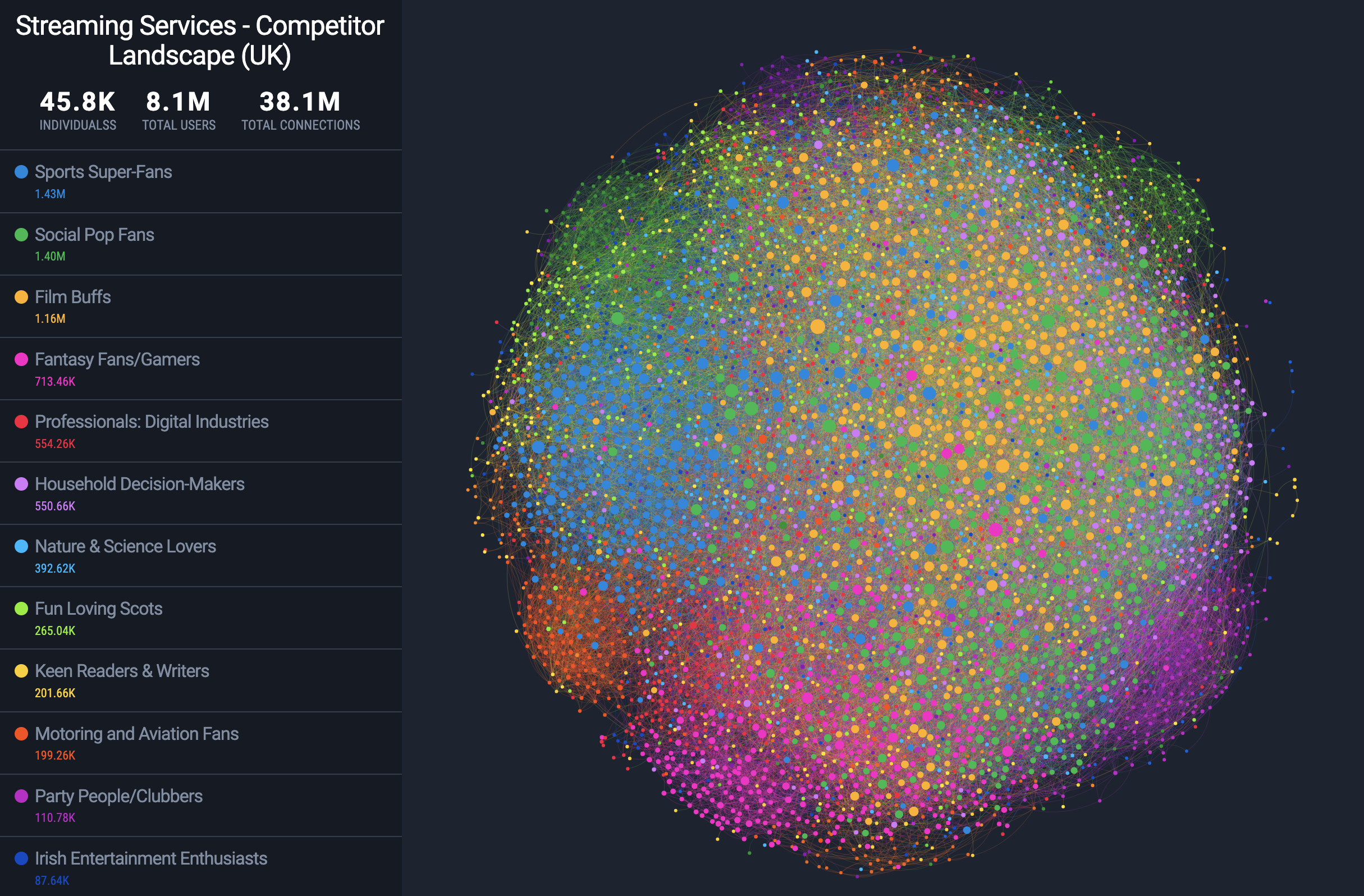 Competitor Insights

Household Decision-Makers are a key audience segment that determines which services are used, especially in family homes. Fifty found that Sky, Now TV and Discovery Plus are the most readily adopted platforms by this community. It should be noted that although these decision makers may have the ultimate purchasing power, they are likely to be highly influenced by the other groups of individuals in their household, even if they are not themselves readily engaging with that content online.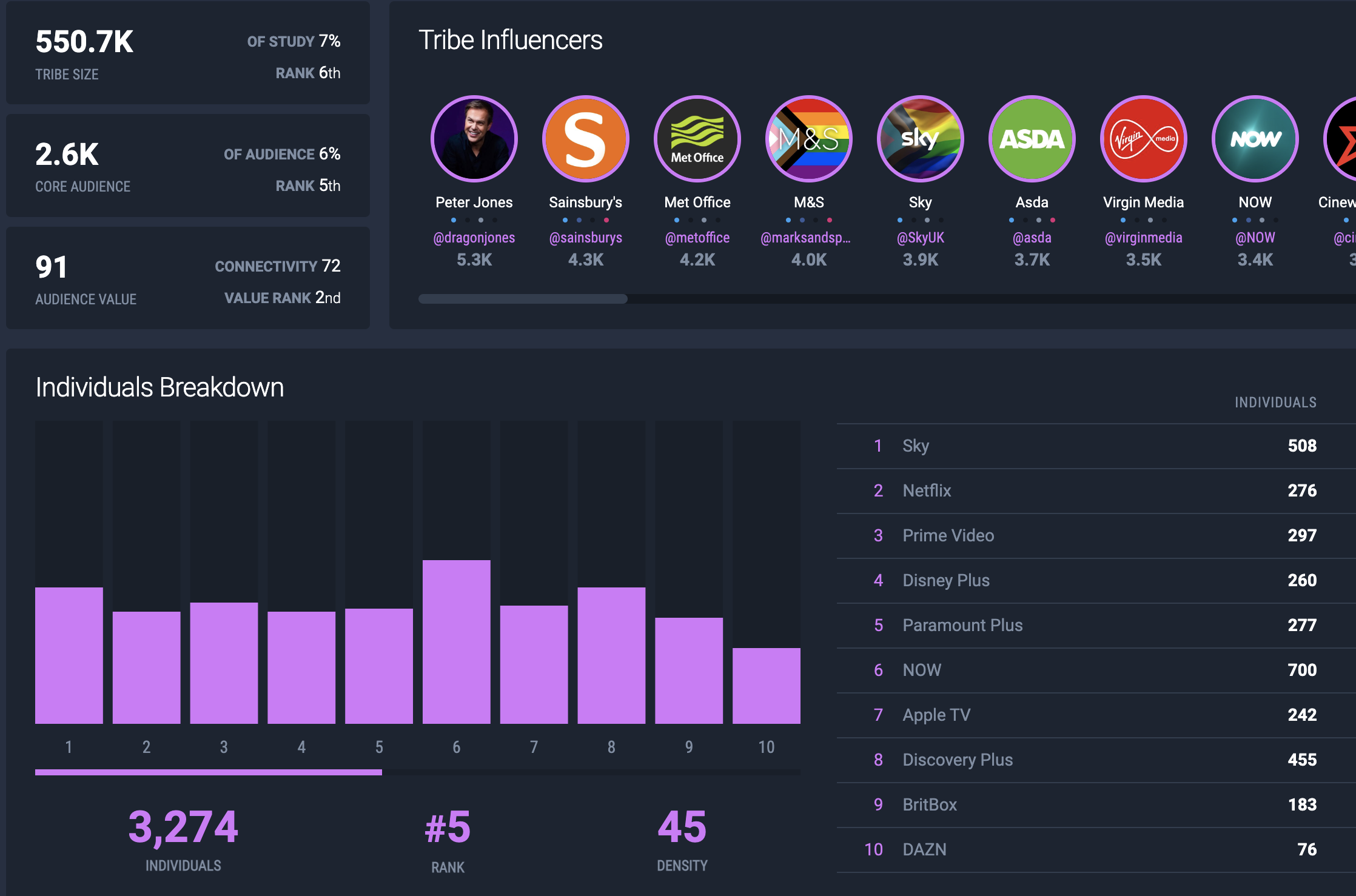 Prime Video, Paramount Plus and Disney+, which house franchises like Star Wars and Marvel, all proved very popular amongst Gamers and Fantasy fans. Their engagement with the Sci-Fi genre and gaming platform Twitch suggests this community is tech-savvy and prefers futuristic entertainment. This interest in the digital universe presents an exciting opportunity for streaming services to reach these audiences by channelling their propensity to consume online content on a subscription-led basis.
Film Buffs were the third-largest tribe in the study, representing a keyrevenue pool and, thus, a priority audience for streaming services. The study revealed the tribe favours Paramount Plus and Britbox and, as well as film, shares a secondary passion for fiction. This finding indicates there could be scope for expansion into these areas through book to screen adaptations - a market that Netflix has been capitalising on recently with titles such as 'Anatomy of a Scandal' and 'Heartstoppers'.
Appearing consistently in the context of current trends, Disney+ and Netflix, powerhouses in pop culture, sit as the favourites for the second largest tribe in our study, Social Pop Fans. Both platforms are deeply integrated with contemporary culture, which has not only boosted their awareness, but also cemented their status as trend setters. A key example is Netflix's influence over fashion trends. Period drama series Bridgerton, with its extravagant regency era costumes, viewed for 1.243bn hours over 2 series' has inspired a new aesthetic known as 'regency core', which saw Lyst record a 93% increase in global searches for empire-line dresses. This phenomenon has also been attributed to The Crown and The Queen's Gambit, which have both been credited with shaping the modern fashion landscape.
Sports streaming platform DAZN was the most popular platform amongst Sports Super-Fans, - the largest tribe in our study. Key influencers consisted of major players in the football, tennis, and boxing worlds. The scale of this tribe highlights the potential for capitalisation in this sector of streaming audiences, a space DAZN is working to fill.
Sports streaming service DAZN was the most popular platform amongst Sports Super-Fans - the largest tribe in our study - whose key influencers consisted of major players in football, tennis, and boxing. As the first dedicated live sports streaming service, DAZN serves as a prime example of a platform that has successfully differentiated itself within an increasingly competitive market and attracted an impressive share of the overall streaming audience as a result. Now dubbed 'The Netflix of Sport', DAZN's sizeable audience serves as a testament to the success that comes with finding your niche and running with it.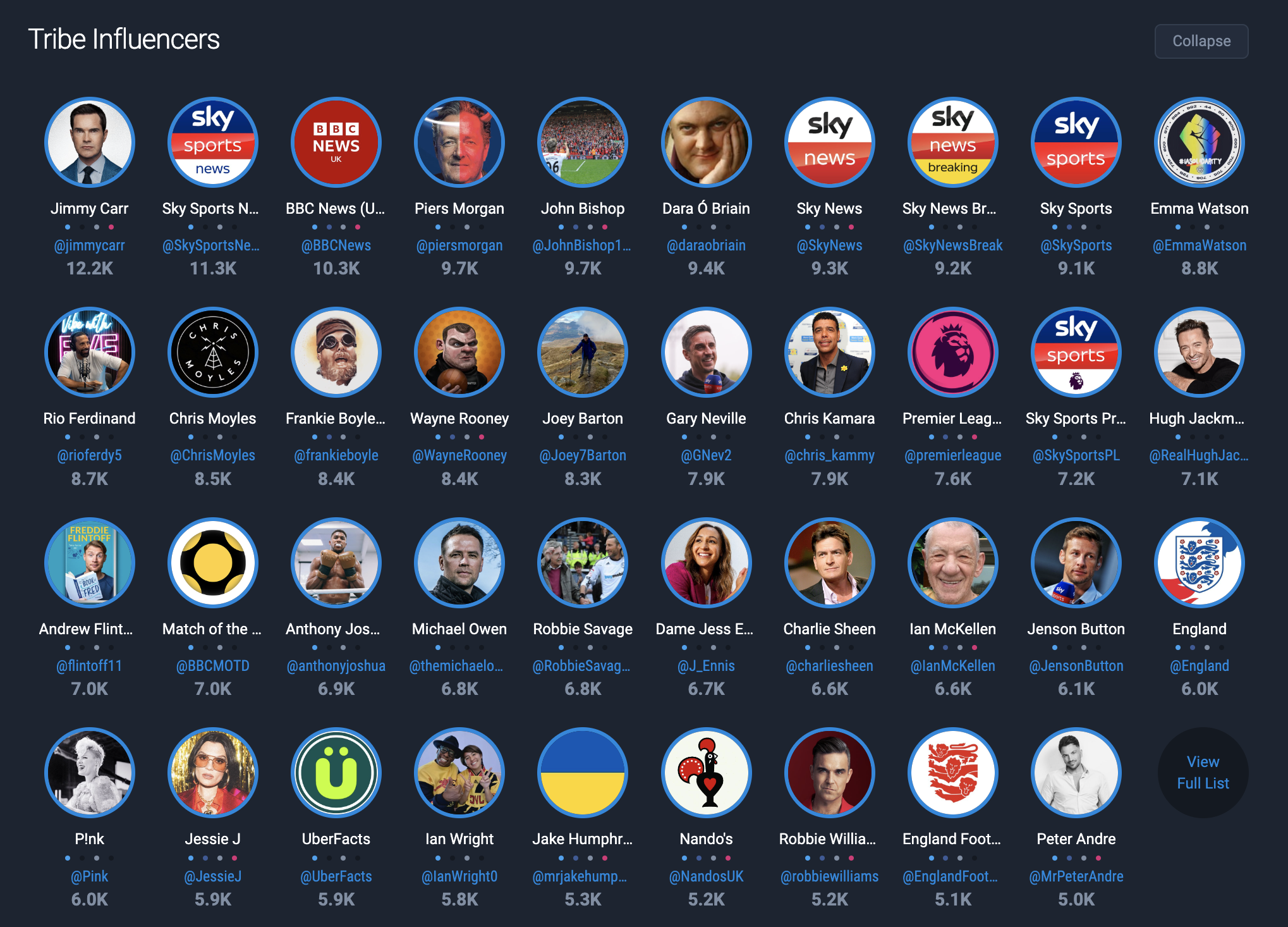 Conclusion 

Even amid the current cost of living crisis, the SVOD market is seeing continued growth as consumers are choosing to prioritise home entertainment in the face of rising costs. And with the competition for viewers heating up, streaming services will need to continually evolve if they want to retain subscribers. A prime example of a platform actively pivoting their audience strategy is Netflix, who, after losing 200,000 subscribers in Q1 of 2022, will be releasing an additional ad-based video on demand (AVOD) subscription model at a reduced price. We'll no doubt see more platforms experimenting in similar ways in a bid to increase their share of what is now a $80bn market.
The opportunity for SVODs to utilise granular audience insights to inform their strategy is massive, yet underutilised. By tapping into the passions of their current and future audiences, streaming platforms can optimise their content to maximise impact, expand their reach and, ultimately, use these findings to lead major brand decisions that could solidify their position in the market well into the future.