ChatGPT jumped onto our computer screen over 6 months ago and the major tech innovation has stayed in the spotlight ever since. But has the sentiment around Artificial Intelligence changed as the technology continues to evolve. We used social listening to find who is engaging in the AI conversation and used these audiences to conduct a sentiment analysis, comparing the tribes on the positive and negative side of the discussion.

Our study revealed a variety of tribes coalescing around 3 major themes, covering interests around tech, entertainment, and culture.
Tech & Innovation
Our core theme is made up of audiences around technology, education and innovation. AI's latest development is seen as a major milestone in the evolution in tech. With this in mind, it's no surprise that some of the biggest tribes in our study appear to be leaders in technology – Tech Innovators, Digital Business Leaders and Science and Tech Educators. These individuals are passionate about innovation and embrace the newest tech as it comes, understanding the value of AI in business. Known often as the early adopters of major tech products (there's a notable tribe dedicated to the Crypto Community), their top influencers revolve around tech news and business such as on BBC Tech News, Tesla, and Satya Nadella. This is a group that will likely offer steady support and engagement with AI; an easy target for brands to focus on.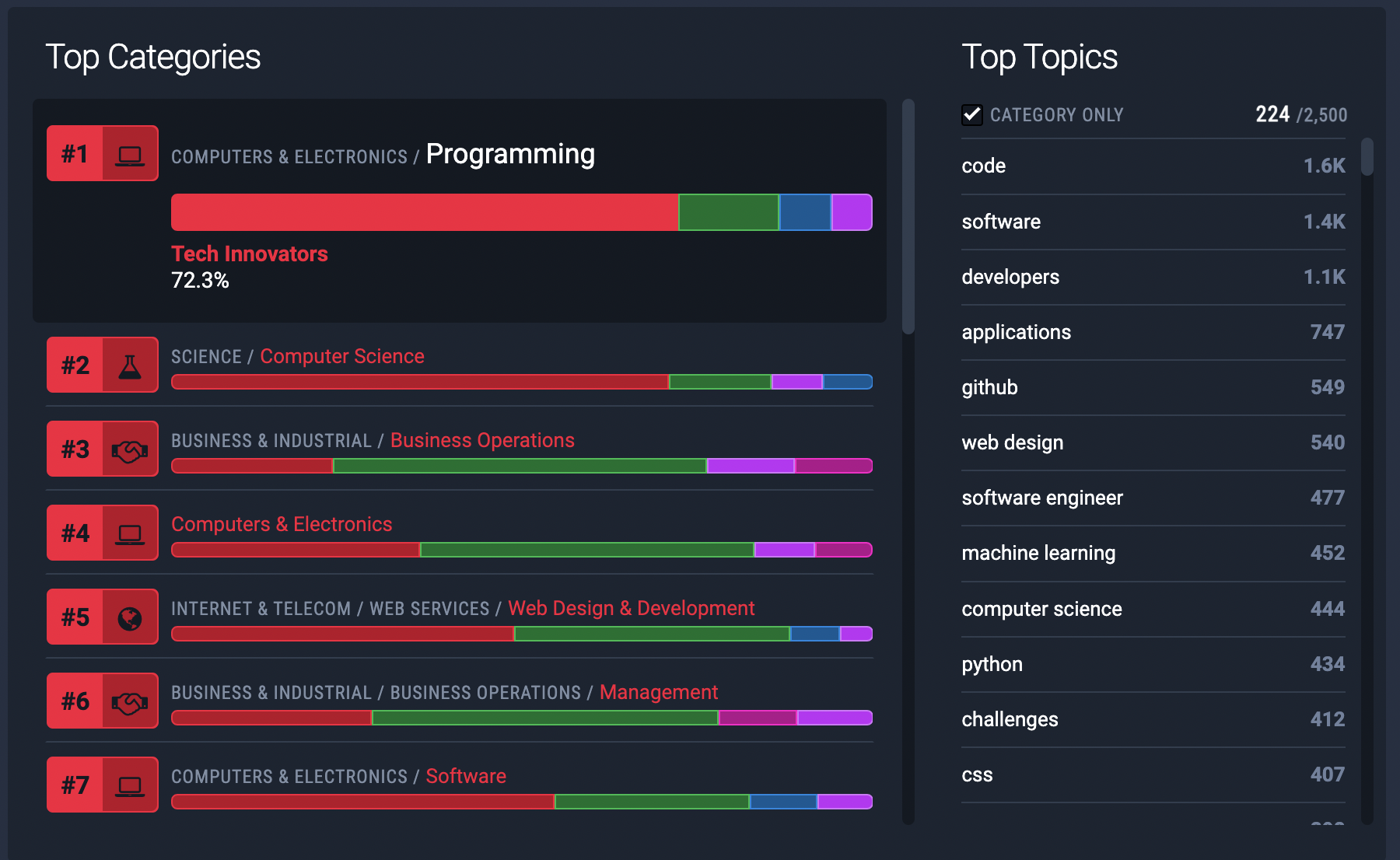 Entertainment & Youth Culture 
While Tech & Innovation audiences have been early supporters of AI, its popularity in the public sphere has finally gained notable traction in the wider Entertainment & Youth Culture world. Tribes under this umbrella skew on the younger side, who like to remain up to date on trends and pop culture. Our Millennial Entertainment and Gen Z Boy Band Fans are focussed on today's biggest names in acting, comedy and gaming, as well as gen z music artists and genres. We also see a more niche tribe, Music Mavens, who are entrenched in the Hip-hop and grime scene. It's likely these groups focus on Chat GPT from a trending standpoint, as it still holds some of its shine as the newest toy in tech. It's also possible that its accessibility to the public adds to its popularity – everyone can be included in its use even if you don't come from a tech background.
Progressives & Creatives
Sitting in the middle of Tech and Entertainment is our Progressive and Creative theme. Tribes include Design Creatives and Film & Theater Industries – to be expected considering generative AI's recent involvement in graphics and design. Progressive Brits, like our entertainment tribes, are up to date on the latest news and are heavily informed in politics, social issues, investing and business news. Given the popularity of Chat GPT, it's not surprising they are interested and probably look at its societal impact as it cements itself into everyday life. While creatives are the smallest tribes, their creative nature paired with the advanced tech of AI could have significant effects on the arts, making it important to appeal to this crowd.
Public Sentiment
Knowing what we do about the audiences discussing AI, we dove further into the sentiment around the conversation. Who appears to be pro AI and who is anti?
Positive Sentiment
Expectedly, the tribes in Tech & Innovation show positive sentiment around artificial intelligence. These groups are likely leaders who sit at the top of their industry and understand both the tech behind AI and how to incorporate it, suggesting they are not threatened by the rapidly expanding world of AI
Negative Sentiment
Interestingly, the younger generations in the Entertainment & Youth culture theme sit on the negative side of the conversation – a surprising result given Gen Z's usual rapid adoption of new technology. Progressive and Creatives are also shown to be wary, which again can be attributed to AI's heavy involvement in artificial intelligent artwork, causing concerns about the future of art & design.
Conclusion:
The diverse range of audiences speaking about AI highlights its prevalence in today's world; there is no doubt its reach is wide. However, it's important to note the wariness many people still hold when marketing or using artificial intelligence. Winning over the younger generation and creatives is imperative for AI to remain embraced by the public.