Game-Changers: The Audience Evolution of Video Game Adaptions
The video game to film and television adaptation is by no means a new media trend; the first Super Mario Bros. flooded the screen in 1993. However, that's not to say they've always been well-received (see again, Super Mario Bros., 1993). But the last few months have seen video game adaptations finally taking off among audiences, most notably with the new series The Last of Us, which received immediate praise from its January release. With the trend becoming more popular, we want to understand more about the audiences engaging in both video games and their film/tv adaptations to see how the landscape has evolved.

Our audience study compares popular video games and their respective adaptations including, Harry Potter, The Last of Us, Star Wars, Spiderman and Sonic the Hedgehog. The aim was to understand the shift in audiences between the two mediums and search for any patterns and preferences to the form of media.
Insights
Film Vs. Games
When looking across the film landscape there is a much more diverse range of audiences compared to Gaming. While this may be in part due to the accessibility and popularity of film as a whole, there's a few specific tribes that stand out in our study of Video Game adaptations.

Film Buffs
The Film Buffs tribe sits 5th in size in the entire study. However, it is surprisingly the third largest tribe with both gaming franchises and their film/tv adaptations. While preferences skew more towards watching an adaptation of a game than playing it, it's interesting to note the disparity is relatively small. With The Last of Us specifically, it's nearly the same share that engages with both mediums. Their biggest interests lie within performing arts, acting, and film and television, with big name sci-fi/fantasy actors and production companies as their top influencers (film/gaming Alum Mark Hamill, Ian Mckellen and Marvel UK). They may not be the biggest gamers right now but there is clearly an interest in it which offers a big opportunity for marketers to target with the right story-driven game.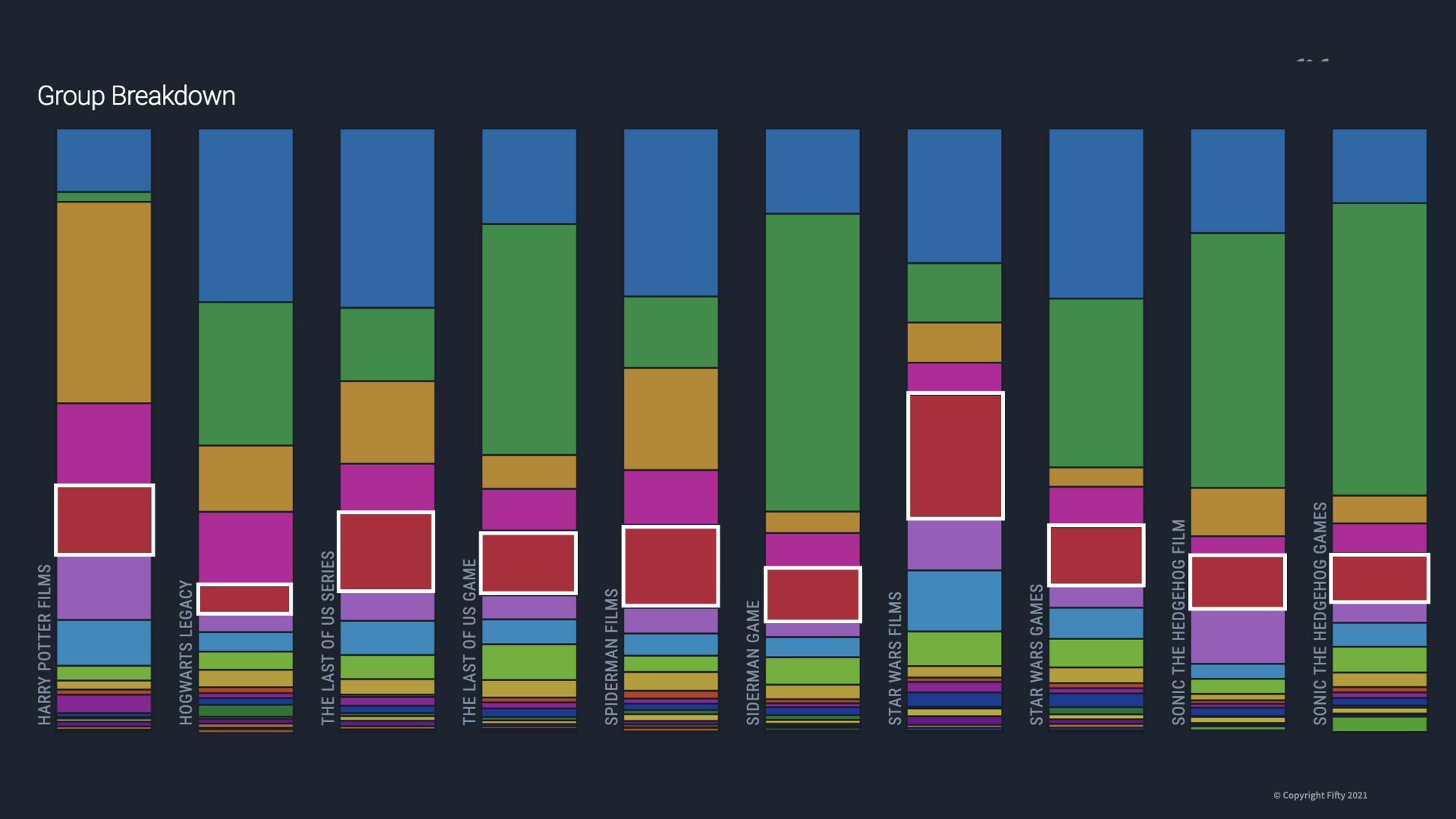 Mainstream Gamers & Entertainment Fans
Moving across the spectrum of film to gaming audiences, Mainstream Entertainment fans sit squarely in the middle of the two. While top interests lie in sports and TV, their biggest influences still include major gaming brands such as PlayStation and EA Sports Fifa. They over-indexed on recent releases in both industries – Harry Potter Legacy, The Last of Us series, Spiderman films and Star Wars games. It's an even split, but the pattern we see within this tribe is very trend-based. They are most engaged with the newest launches both in film and games, meaning this tribe is essential to get traction on new releases of both mediums.
Similar to this tribe (on a smaller scale) are our Alternative Gen Zers and Pop Culture Connessiours. While their preferences skew towards film (Harry Potter specifically), there is an interest in the latest releases on both sides and Gen Z over-indexes massively with Harry Potter Legacy, indicating a new way to get younger audiences invested in the book and film franchise.
Hardcore Fantasy Gamers
On the Gaming side of our study, the Hardcore Fantasy Gaming tribe is by far the largest. Unsurprisingly, they engage more with the fantasy video games than their adaptation counterparts, over indexing on almost all games included in the study. They hold a massive interest with sci-fi and fantasy content, particularly with video games. However, there's a large overlap with tv and film – some of their biggest influencers lie with popular fantasy actors and directors such as Maisie Williams and Guillermo Del Toro, in addition to Netflix and Marvel Studios. Their enthusiasm for games is to be expected, but the crossover in interests and influencers is almost a mirror image of the Film Buffs, meaning they are a huge growth opportunity for films and tv shows – just as film buffs were for video games.
Conclusion
More and more, we're seeing a shift in interest as films/tv series and video games spill into one another. The commonality of hardcore fantasy gamers and film buffs is also touched upon in our recent study of 'The Legend of Zelda: Tears of the Kingdom'. Looking across today's landscape we can clearly see a shrinking divide between the two mediums as it's clear that quality production and good storytelling will resonate with any audience, in any form. 
To find out how your brand can stay relevant with the modern gaming audience, get in touch with us at [email protected].

Most Read
Related Articles
Fifty takes home the award for Best Use of Data at the 2023 Global Business Tech Awards
Join the discussion around the one of the most highly anticipated video games of 2023.
The Legend of Zelda: Tears of the Kingdom is almost here - we ran a study to find out who will be playing.
Get in touch
Interested in learning more, want to subscribe to our newsletter or simply say hello? Drop us a message below.
Want to see us in action?
Like what you see? Find out more about Fifty's world-leading technology today.
Book a Demo
Fill out the information below so we can pair you with
the team member who best suits your requirements.
I am a…
I am based in…