Launched in 2017, Epic Games' Fortnite has gone from just another video game to a cultural phenomenon. In that short period of time it has garnered 250 million registered accounts, with its peak of active players in a month reaching 78.3 million. By the end of 2018, it was raking in $2.4 billion in revenue and brands have come calling. Gamers have been able to inhabit Keanu Reeves character John Wick, Marvel Universe superheros, and Stranger Things' sheriff Jim Hopper in the game. For a limited time, their avatars could purchase special edition Air Jordans. And while Fortnite could become a wasteland for every pop cultural phenomenon, there is one crossover area that we think Fortnite is missing out on: Premier League Football.
In February 2019, Peter Moore, CEO of Liverpool FC said in an interview with Arabian Business magazine that he was worried about the competition that Fornite and other video games wrought, taking precious younger viewers away from football-watching. "Ninety minutes is a long time for a Millennial male to sit down on a couch," Moore said. "When I look at viewing and attendance figures of [this cohort], I'm concerned as a chief executive of a football club that relies on the next generation of fans coming through. If we don't build technological prowess as a club we will lose them. There's so much pressure on time now and only 24 hours in a day… there are only so many hours to play Fortnite."

In many ways, Moore is right. In our audience analysis of UK Fortnite fans, we saw a predominantly male and Gen Z/Millennial base. These are the quintessential football fans – and they love Fortnite. And yet, do the two have to be mutually exclusive? Our study found that of the top ten tribes in size, two were related to football: Football Lovers who ardently follow top footballers like Xabi Alonso and managers like Harry Redknapp, and Arsenal Superfans that use words like "Arsenal", "AFC" and "COYG" (Come On You Gunners) to describe themselves. And then, when we analysed the tribes by audience value – so how connected the tribe was to the overall Fortnite audience – the top five tribes by value are: eSports Fans, Old School Gamers, Football Fans, Manchester United Superfans and Arsenal Superfans. You'd expect eSports Fans and traditional video gamers to be interested in Fortnite – but the other three? They showcase that Moore, and the Premier League in general shouldn't look at Fortnite as a threat, but an opportunity.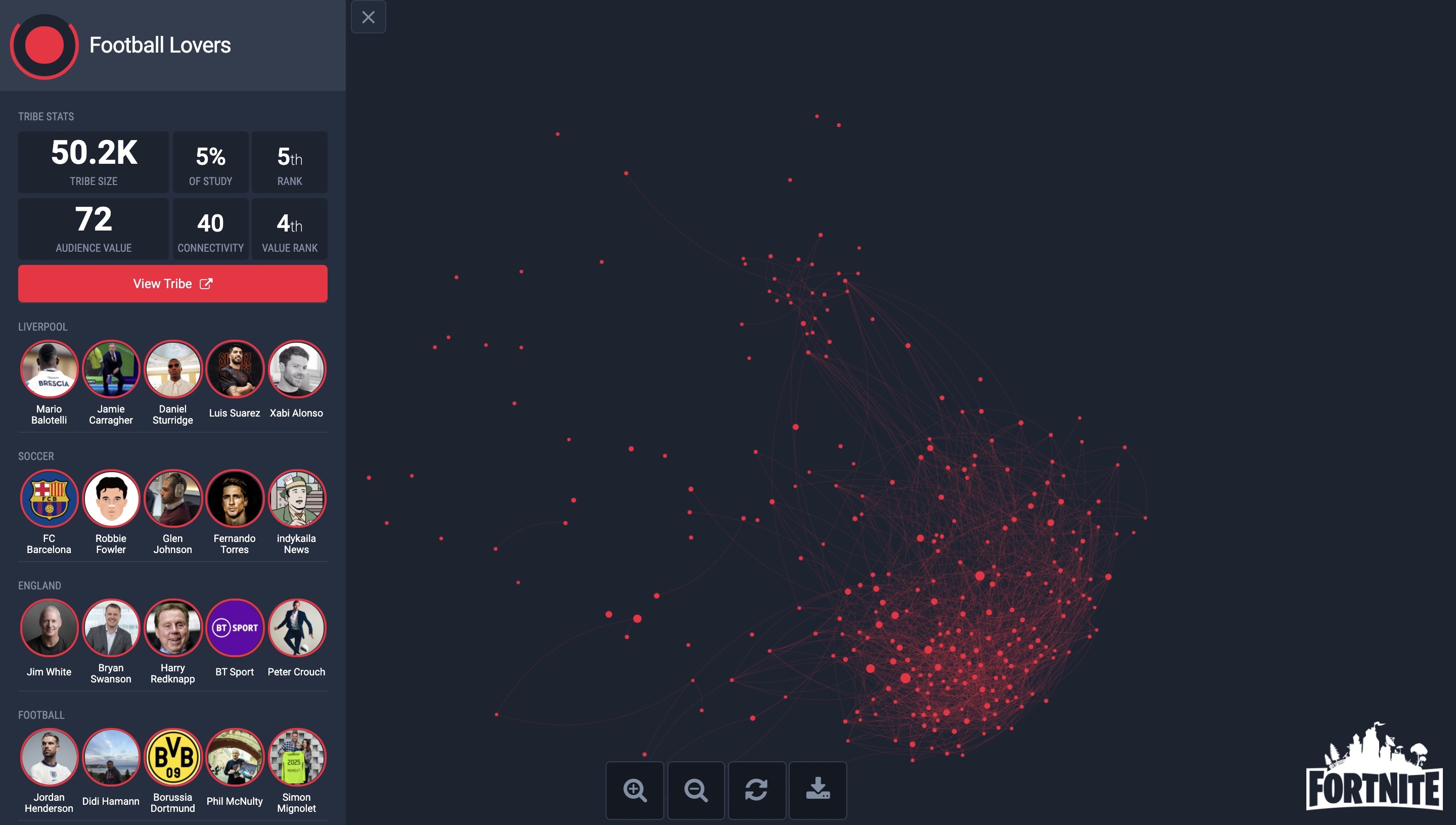 Just as football fans can love other sports, they can love football and still love Fortnite. And if you bring the two together? That could be a branded crossover with endless appeal. Think of the different players that gamers could inhabit and purchase as skins. Think of the uniforms and iconic numbers that they could purchase. There could be special edition battles based on big game matchups. There could be Battle Royales at Wembley Stadium! One study of Fortnite found that the average player spent £68 on in-game purchases, most often spent on new skins and outfits. So instead of fearing Fortnite, it's time the Premier League played along.
Read more Trends & Insight.

Interested in finding your core audiences? Book a platform demo today.