In the last couple of years, free-from foods – those that do not contain common allergens such as dairy and gluten – have risen in popularity. Almost half of UK adults now avoid specific foods or ingredients and 39% now buy free-from food and drink, according to a 2018 report from Mintel.
We wanted to delve into the audiences who are driving growth in the free-from category, to understand how the free-from movement has spread from niche to increasingly mainstream. For this study, we input some of the top free-from brands in the UK, including Oatly, Koko and The Raw Chocolate Co into the Fifty platform to create a composite picture of their audiences. Using these audiences, we can understand who the free-form category currently speaks to, who are its leading influencers and where growth opportunities can arise.

Health is the main driver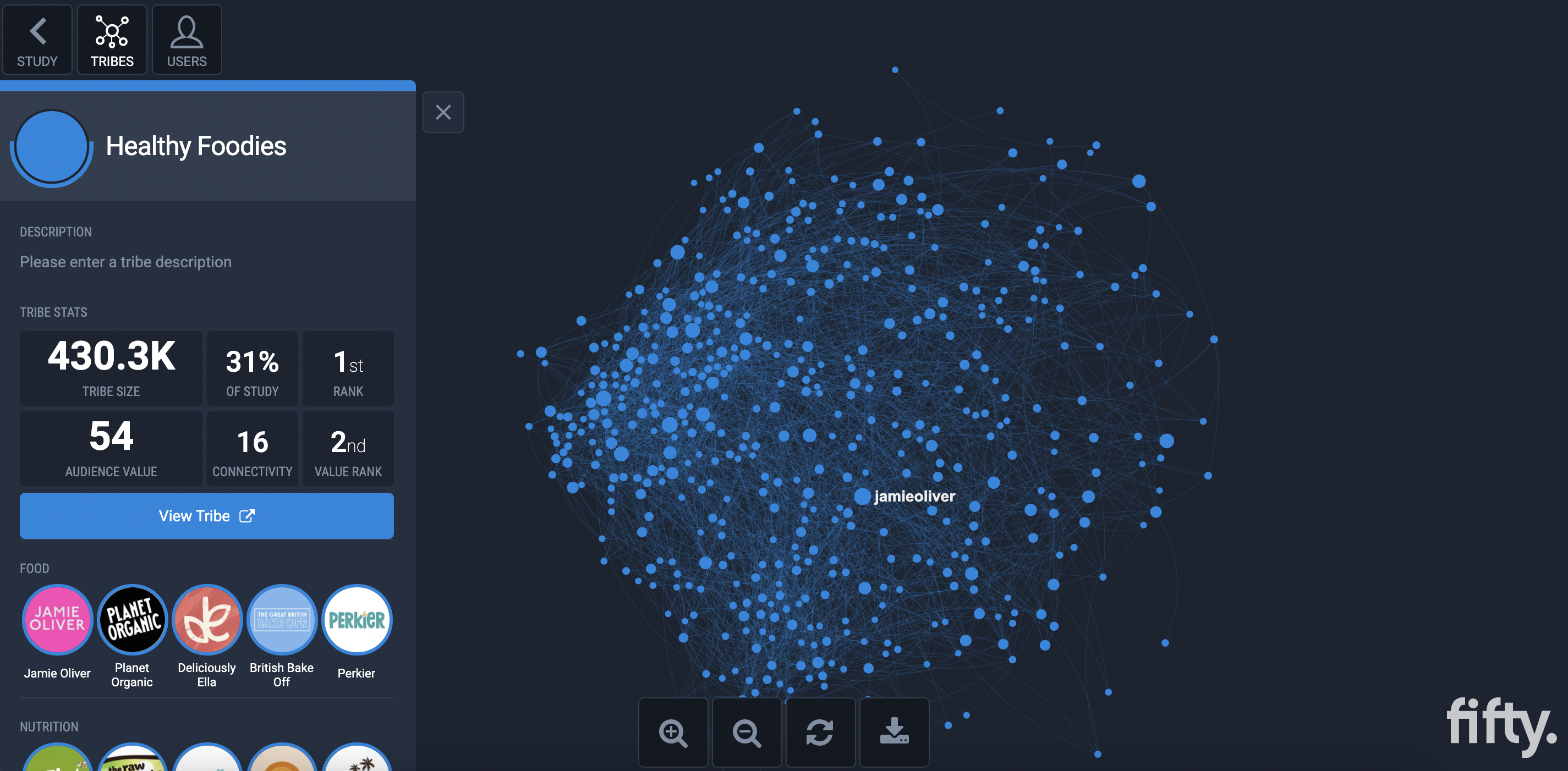 By far the largest tribe within the free-from audience is Healthy Foodies, with over 430,000 members in the tribe. They see health as a lifestyle, with many of them using words like "running", "nutrition", "fitness" and "health" as key words in their bios. They follow the health food scene, with influencers such as plant-based blogger Deliciously Ella and health brands like Meridian Foods all-natural nut butters and health grocer Planet Organic all in their top 10.
The fact that this is the largest tribe demonstrates how the conversation around free-from food has become intricately linked to the notion of health. This audience validates the current messaging of health versus being on specialised diets and will serve free-from brands well as the category continues to expand into mainstream consciousness.

Mums seek out "free-from"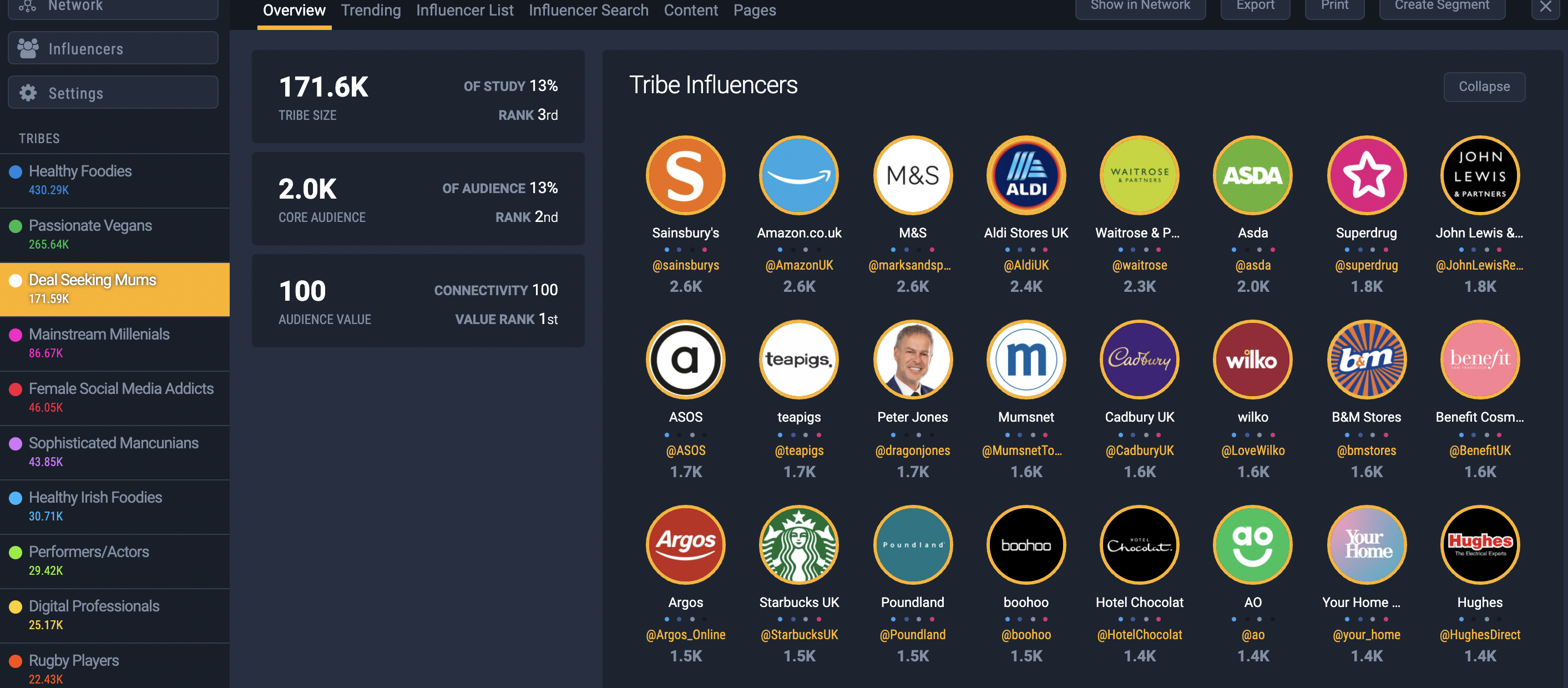 Deal-seeking Mums represents another large segment for natural and free-from foods, with 171.6k people making up this tribe. This is also the tribe which has the highest audience value, meaning it had the largest affinity with the brands inputted into the study. As a tribe, word-of-mouth is highly important to them with sites such as Mumsnet and UKMums ranking highly within their influencers. And while this tribe are seeking healthy options for their family, budget and convenience also rank highly important for them with Aldi, Asda and Poundland all amongst their most influential retailers and hashtags such as #FreebieFriday and #giveaway frequently used by accounts this audience follows.
For the free-from market, deal-seeking mums offer an opportunity for growth, but at the same time, these brands must be mindful of this cohort's hunger for a deal and their need to stick to a budget.

Grocery stores lead the way
If you look across all 30 tribes that emerge in this study – which includes over 3 million accounts and 11.85 million connections – it is clear that one of the strongest overall categories of influencer is the grocery store. Within the top 50 influencers across the entire study there are seven retailers that have groceries as part of their business. Leading the pack is Marks & Spencer, followed by Amazon, Aldi, Planet Organic and Waitrose, which all make up the top five retail influencers.

For free-from brands, this shows the importance of not only having your stock within these particular retailers, but also the need to engage with their specific audiences. Speaking to Aldi's audience, which may be more suburban and mainstream versus Planet Organic's more urban audience will require different campaigns, tone-of-voice and execution. If grocery stores are leading the changing conversation around free-from foods, then it is vital to engage with their specific tribes.
Snack bar influencers
If grocery stores are the channel through which many people are potentially discovering free-from foods then snack bars are the gateway food – at least in terms of popularity. The most common category of free-from food that shows up in the top influencers list is snack bars. Brands Nakd, Pulsin and Perkier Foods all offer snack bars that are gluten-free and vegan and are popular with this audience. While Nakd is the most influential food brand on the list, sitting at number three of top influencers, the next food brand is The Raw Chocolate Co, which creates vegan chocolate snacks.

So it seems that the snacking category is particularly popular, while alternative dairy options, which arguably get more press, are further on the list with brands such as Oatly and Alpro coming in at numbers 30 and 84 respectively.

The next free-from opportunity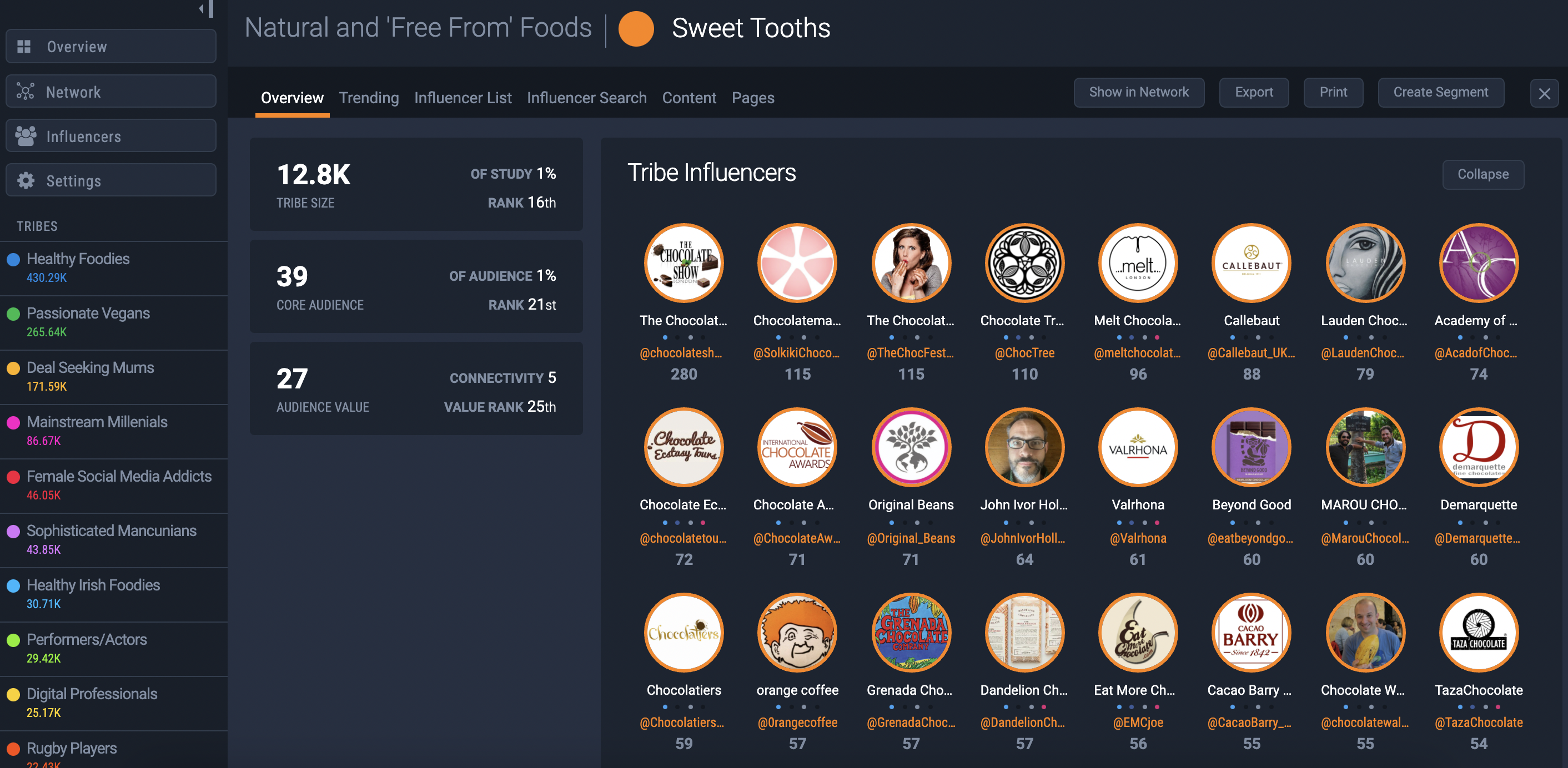 Following on from the insight that the snack category is a popular entry point for consumers seeking free-from foods, another insight gleaned from the study is the potential for the desserts and baking category. A smaller tribe to emerge within the study is the Sweet Tooths – a tribe of nearly 13,000 accounts that define themselves by their love of sweet treats, and in particular chocolate. This audience is highly engaged with the dessert and baking industries with trade shows such as The Chocolate Festival and The Chocolate Show amongst their top influences. They also describe themselves based on their love of sweet things, with "chocolate", "cacao", "candy", "health" and "gourmet" all popular bio keywords. Indeed, this tribe defines themselves particularly by their interest in organic and gourmet chocolate brands with artisanal brands like Callebaut and Varholna amongst their top visited websites.
For the free-from industry, this offers a potential growth potential around vegan sweets that are free-from sugar, dairy amongst other ingredients. This tribe signals a new interest group, which can open up a conversation around the need to satisfy people's sweet tooth with their desire to be healthier.
Catch up on the latest trends and insights here.
Interested in finding your core audiences? Book a platform demo today.